INTO THE WILD!  YOUR ADVENTURE AWAITS..
Visiting our Sloth Adventure Tour
Prices are $15 dollar per person
We are a small scale family run eco-tourism project set on an organic farm, located in the northern rainforests of Costa Rica. Over the past 20 years we have converted our land into an eco-paradise.
Our aim is to create a sustainable and viable approach to organic farming and protection of Natural resources, which safe guards and promotes nature in its natural and most healthy form. We promote zero chemical use as a needed alternative and seek to continually develop our land and project responsibly. In short we have a beautiful thriving tropical farm nestled into the valley of two volcanoes in the rain forest.
As a result through our work we have created a heaven for the sloths and their reproduction.
In Our tour you will be taken on an inspiring and educational walk, showcasing natural wonders such as tropical plants and flowers, birds, frogs, snakes, monkeys, insects and many more animals that inhabit our farm.  You will see and learn about the life cycle of butterflies, and learn everything about the sloth life and metabolism.
We are interested in conserving the environment and the natural habitat of our animals and plants. During the tour, you will also learn about our methods and efforts to sustain these natural environments, encourage re-growth and promote organic farming. Ø   Activity: 1.20 hours (Tours at 8am, 10am, 12pm, 2pm and 4pm)
Ø  Difficulty:  easy  
Butterfly Garden
At Finca Verde Lodge we work in order to protect the nature and butterflies of our region. Meticulously gathering eggs and placing them in a protected environment where they can safely and healthily hatch. 
Visitors can dive into the entire production process and development of butterflies from obtaining and collecting the eggs, the evolution in the larvae at different stages. We carefully tend for the butterflies in their stages of being, once the butterfly is born we bare some of them to the butterfly garden, while releasing the others.
A protective area from birds and other animals which prey on butterflies, filled with plants & fruit trees. The butterflies have a chance to flourish and reproduce at a higher rate and in safe conditions.  All complementing the process of production of species such as Morpho, Caligo, Tamarindis, Papilio, Siproeta, Monarch and many others. You can also learn more about eco tourism projects and how they have created sustainable income to rural communities and families.


Night Tour
Around 70% of species in Costa Rica are active during the night. Come and experience the jungle come alive as the sun sets. We have brilliant local guides who will take you safely through the winding trails into the jungle in order to catch a glimpse of different animals, insects, frogs, mammals and more. Its a very different experience to our day tour and all your 5 senses will come alive 
This tour is priced at $25 and is approx. 2 hours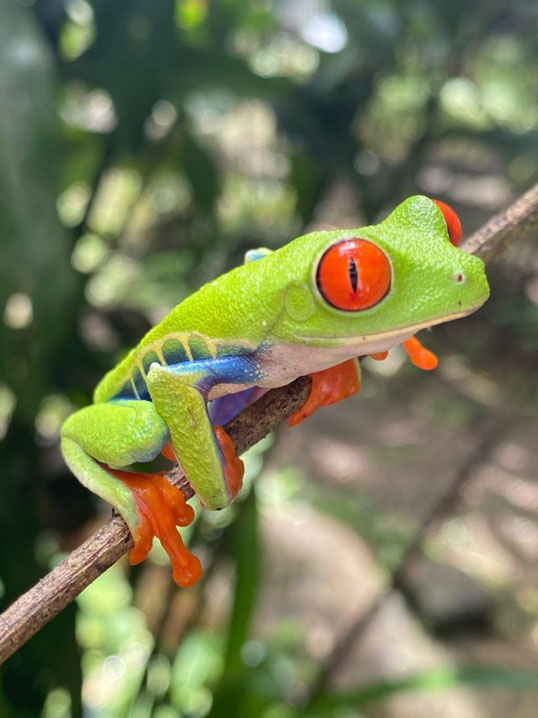 OTHER TOURS IN AND NEAR THE TOWN OF BIJAGUA
Tenorio National Park ( Rio Celeste)
Located within the Tenorio Volcano National Park, the Río Celeste winds, tumbles and crashes through a verdant rainforest.
A trip to Rio Celeste involves a pleasant, yet somewhat challenging, hike through the cool rainforest scenery of the Tenorio Volcano National Park. Two rivers merge into one, a confluence where the minerals from the river and volcano meet and subsequently create the famous blue color.
In addition to the colorful attraction of the water, the river also has several thermal hot springs and a large waterfall. 
The Río Celeste park's entranceis about 15 minutes drive from Finca Verde Lodge and then it takes about an hour to hike to the Río Celeste Waterfall.
What to Bring: Light clothing, bug repellent, raincoat, a camera and binoculars.
Cano Negro Wildlife Refuge
The reserve is a wildlife lovers paradise, it is a biological humid area considered to be one of the richest in biological diversity in Costa Rica.
where you can see three species of monkeys, tons of migratory and resident birds, sloths, caimans, turtles and plenty other species.
Your day will begin with a one and a half hour transfer Finca Verde Lodge, where your adventure awaits you. You will ride along the river on a two hour guided safari float, observing the lush tropical rainforest and wildlife as you go. Not even when you pause for a lunch break will your adventure be stifled.
This unforgettable excursion is likely to be the highlight of your Costa Rican vacation. 
What to Bring: Light clothing, bug repellent, sun block, a camera and binoculars.
Waterfall Llanos de Cortez
Llanos del Cortez is a breathtaking and remote waterfall, most commonly enjoyed as a refreshing retreat by locals and the occasional touris
Since it is not in the national park, there is no entrance fee but you will be stopped and asked to give a donation to the local school. During high season, it might be mandatory (one of our friends had to pay $10 to enter) so depending on when you visit, you can just give 1000-2000 colones ($2-$4) or as much as you want.
What to Bring: bating suit, bug repellent, sun block, a camera and binoculars.
Please contact us for more information.